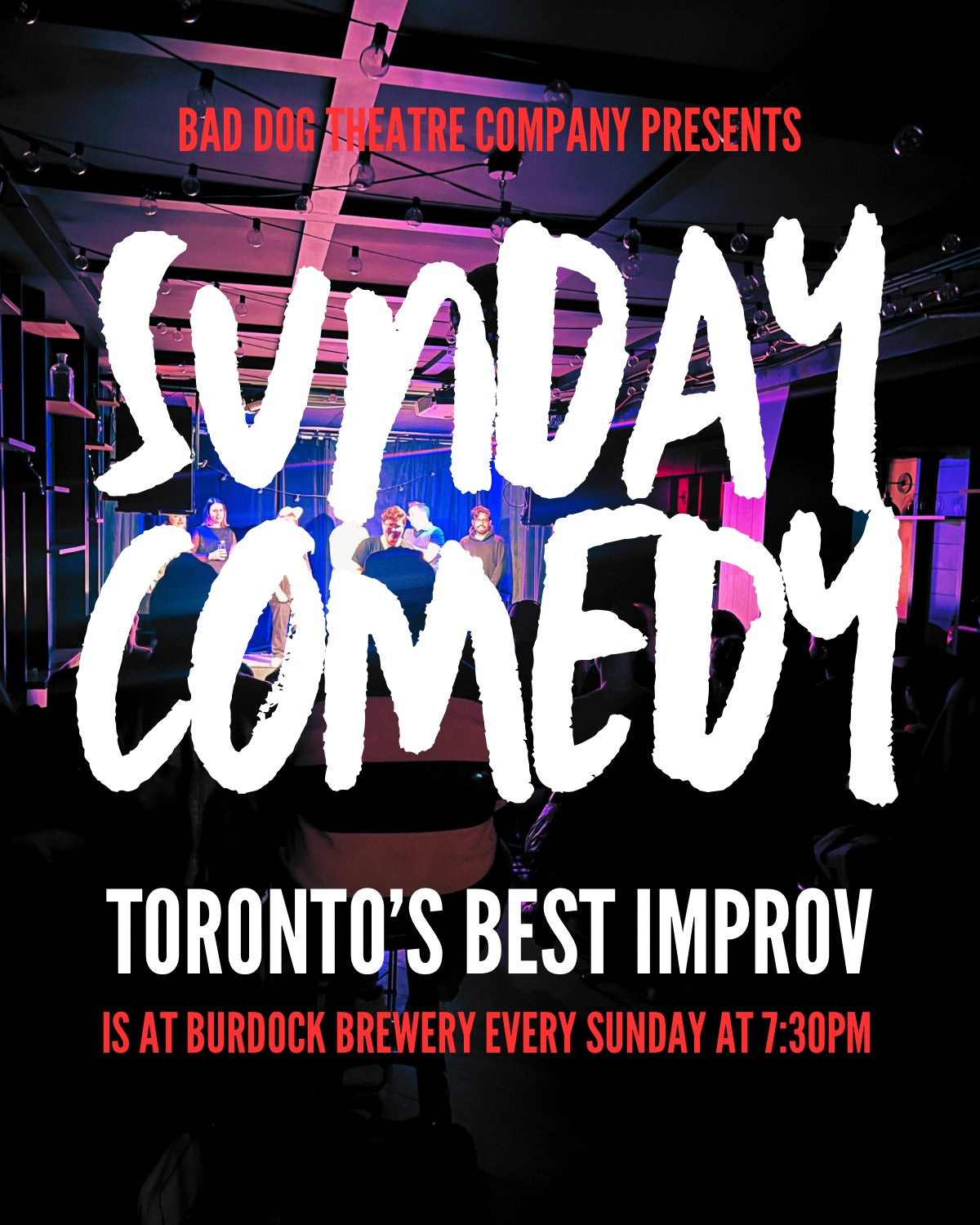 ←

Back
Bad Dog: Sunday Comedy - 2023
Every Sunday @ 7:30pm
Information
Come watch Toronto's Best Improv with Bad Dog Theatre's new all-star show. Award-winning comedians perform the iconic improv format "the Harold" starting with a suggestion from you.
About Bad Dog
Bad Dog Theatre Company is an artist-run charity that has produced Toronto's best improvised comedy for 40 years.

Starting as Theatresports Toronto in 1982, our stages have been graced by notable alumni such as Colin Mochrie (Whose Line Is It, Anyway), Kids in the Hall, Mike Myers, Keanu Reeves, Lauren Ash, Bruce Hunter (Puppets Who Kill), Pat McKenna (The Red Green Show), Gary Campbell (MadTV), Sandra Shamas (Playwright), Linda Kash (A Mighty Wind), and Tim Sims (The Red Green Show).

In 2003 we changed our name to Bad Dog Theatre and opened a space at 138 Danforth Ave dedicated to unscripted theater. It wouldn't be a true Toronto story without at least one eviction, but our second theatre at 875 Bloor St won Best Small Theatre in 2017 and Best Comedy Club in 2018 from Now Toronto.

From location to location, we have continued to produce critically lauded (that's right, not just acclaimed, LAUDED) shows such as Toronto I Love You, La Grande Jatte, and the sell-out hit Hook Up. Our education center is currently located at 392 Spadina Avenue, and we continue to make audiences laugh with our Friday-night residency at Comedy Bar with our flagship show Theatresports.

Facilitated by the best teachers (and funniest comedians) in the city, every year our Academy helps hundreds of adults and youth experience the joy of improvising. The classes aren't just fun, they also develop listening skills, build confidence and improve creative thinking. From beginners to advanced, we believe that everyone has something to learn from improv!

Now in our 40th year, but we're only getting started. Want to join in? Come see a show. Take a class. Bring us to your office for training.
How to get here
We're located on Bloor Street, just one block west of Dufferin Street. Please enter through our restaurant entrance on Bloor, where you will be greeted by our host and directed to the Music Hall.
Good to know
Tickets are non-refundable
Our space does not have wheelchair accessible washrooms
Bad Dog: Sunday Comedy - 2023