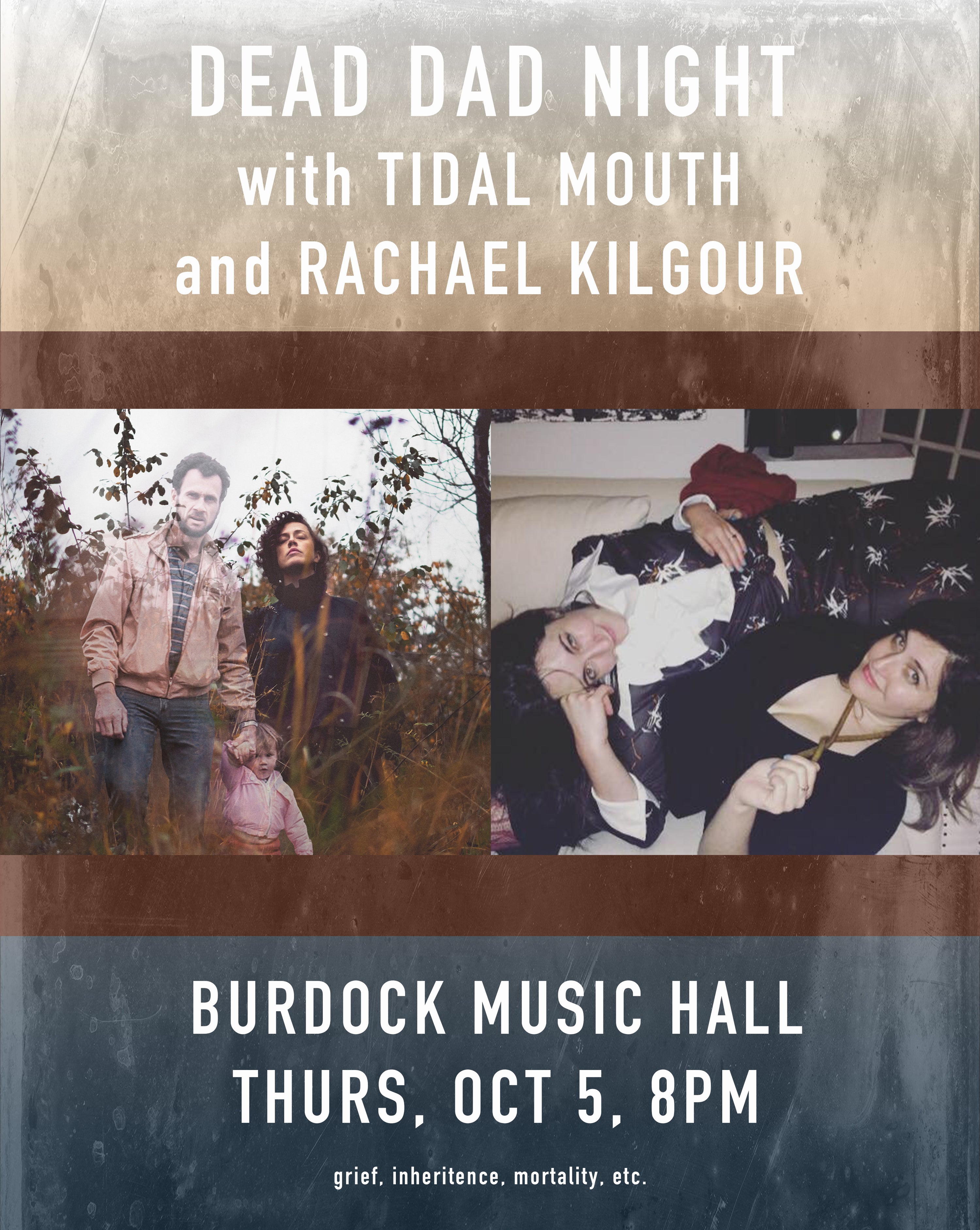 ←

Back
Dead Dad Night with TIDAL MOUTH and Rachael Kilgour
Thursday October 5th @ 8pm
Information
Join Rachael Kilgour and TIDAL MOUTH as they create an environment around loss, love, and music.
About the artists
Rachael Kilgour is a Canadian-American songwriter and performing artist whose plain-spoken, heart-centered work and intimate performances have endeared her to listeners and fellow artists alike. Her new album, 'My Father Loved Me', is a tribute to her late father and was produced by JUNO Award-winning songwriter Rose Cousins and recorded in the senior Kilgour's native Ontario. In the spare, often gutting language for which she is known, Kilgour gives us a complex portrait of a man as seen through his daughter's eyes. With unwavering acuity she poses questions about identity, inheritance, and grief, and affirms the value of one ordinary working man's life to an often indifferent world.
With this work, Kilgour has revealed something about what the living owe each other. "In our mourning rituals, I think we're really convincing ourselves that our own lives matter, that we will have an impact and be remembered. My father had a very average life for a man of his time, a small life that didn't involve grandeur, of any kind at all." Kilgour thinks before speaking again. "I needed to prove to myself—and to the world—that lives lived like that are still worth celebrating, still worth living."

TIDAL MOUTH (a site where very different waters merge and become difficult to distinguish) is an ongoing conversation between Rachael Cardiello and Daccia Bloomfield. Daccia writes the words. Rachael writes the music. Their 13 piece song cycle Sulphur (2018) emerged after lots of talking, art-making and wondering about the complex common experience of losing their fathers. The songs explore the murky, confusing depths of shock (Correspondence), the swagger and humour inherent in denial (Lettuce), and many other stages and expressions of grief's changing effects. While the songs of Sulphur do not correspond exactly with the stages of grief as described in psychotherapeutic terms, they do fluidly take up those descriptions and embrace/question/reject/celebrate their relevance.
How to get here
We're located on Bloor Street, just one block west of Dufferin Street. Please enter through our restaurant entrance on Bloor, where you will be greeted by our host and directed to the Music Hall.
Good to know
Tickets are non-refundable
Our space does not have wheelchair accessible washrooms
Dead Dad Night with TIDAL MOUTH and Rachael Kilgour