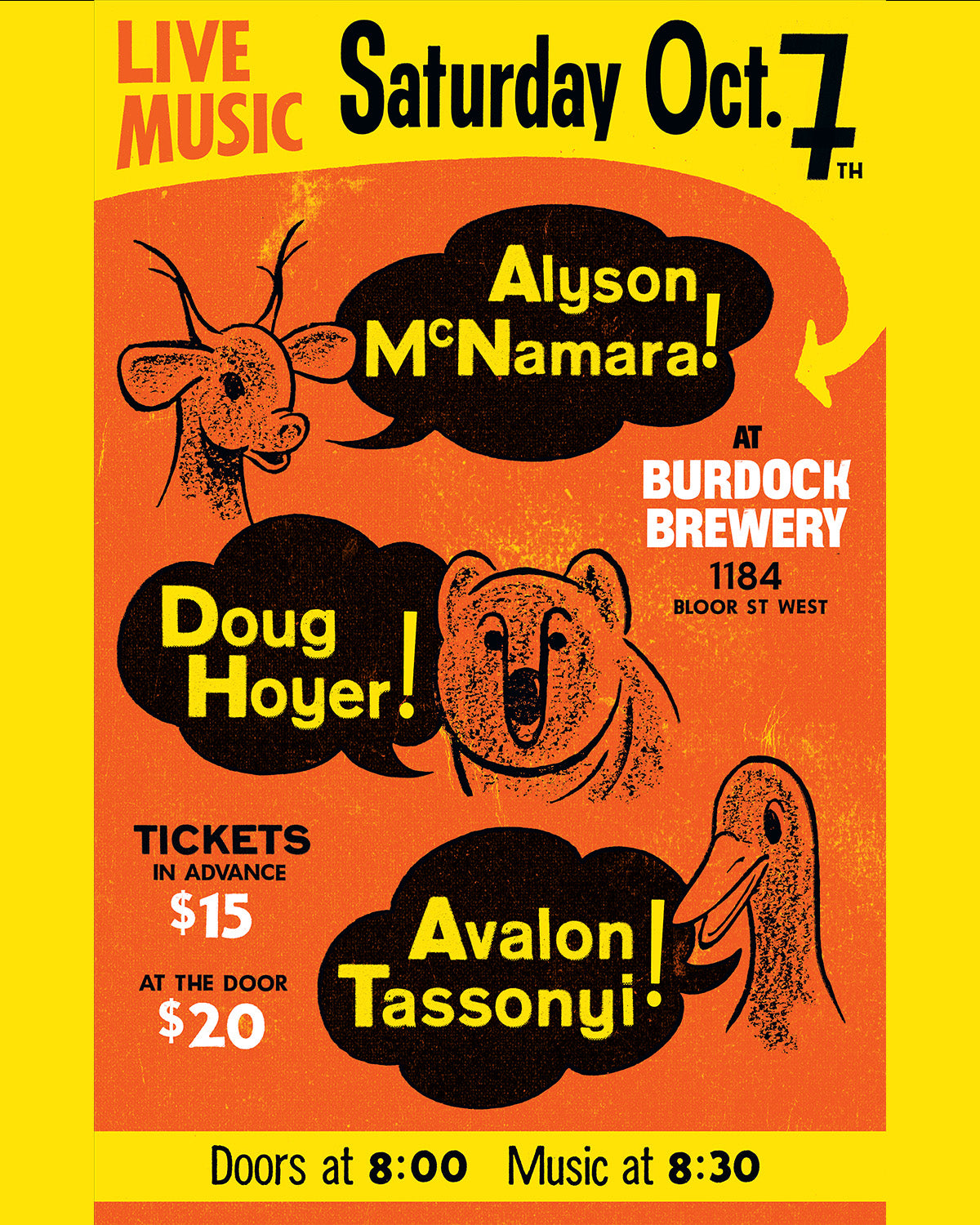 ←

Back
Alyson McNamara with Doug Hoyer and Avalon Tassonyi
Saturday October 7th @ 8pm
Information
Join Toronto indie-folk artist Alyson McNamara for an evening of sentimental tunes, along with
Charlottetown based indie-pop artist Doug Hoyer
and Avalon Tassonyi.
About the artists
Doug Hoyer is a Charlottetown-via-Edmonton based singer/songwriter who documents his songs through a cautiously sentimental lens. In 2015, Doug's track "Get It Right," a standout from the album "Dream Life," earned him a nomination for "Pop Song of the Year" at the prestigious Edmonton Music Awards. Simultaneously, he was recognized as Flagpole's "Songwriter of the Year" in the indie rock bastion of Athens, Georgia. However, his journey into music began on the 2003 CBC reality TV show "Rock Camp," where he shared the limelight with his 'coach' Joel Plaskett. Since then, Doug Hoyer's DIY ethos has been unwaveringly consistent, releasing six full-length albums, several captivating EPs, and even gracing the stage as an opening act for the enigmatic St. Vincent.

Beyond traditional songwriting; Doug has lent his creativity to scoring theme music for various podcasts & video games (Speed Dating for Ghosts) and had his music featured in TV shows, notably in Hulu's acclaimed series 'Casual.' In 2021, Doug embarked on a new chapter, relocating to the serene shores of Prince Edward Island to embrace the joys and challenges of fatherhood.

Yet, despite life's ever-evolving landscape, Doug Hoyer remains dedicated to his craft, infusing his compositions with sincerity and a charmingly wry humour, inviting listeners to join him on a bit of a musical detour.

Avalon Tassonyi is a Canadian singer-songwriter and multi-instrumentalist who splits their time between Toronto and Niagara-on-the-Lake. From 2012-2019, Avalon released a number of experimental pop-rock recordings as Inland Island and in 2022, a folky debut LP under their own name. Their latest album, Candlelightning, is a mix of indie-rock, folk, and alt-country songs. Avalon also frequently collaborates with friends including pop-leaning singer-songwriter and Vain Mina Records labelmate Eliza Niemi and psych-country artist Whitney K.

Candlelightning is the first album that Avalon made back home in Ontario after spending nearly a decade living in Montréal. This homecoming is central to the songs, which have pastoral imagery, touch on familial themes, and a pursuit of contentment. The album was self-recorded live off the floor at Avalon's home studio in Niagara-on-the-Lake with Eliza Niemi (bass, vocals, cello) and Eli Kaufman (drums) and features additional contributions from Nick Nausbaum (organ, piano), Cedric Noel (vocals), Vic Bury (flute), and David Lavoie (trumpet). From the breezy twang of lead single "Yes or No," to the hushed, piano-rooted closing ballad "You Snuck up on Me," there's a comforting warmth to Candlelightning that comes from Avalon's candour and the magic of people playing music together in the same room.

"That was a huge lesson for me: if it doesn't feel good, don't do it," says Alyson McNamara about "After Hours," the opening track of her latest release Let Me Sleep. It's a song that Alyson wrote nearly ten years ago and it was almost included on her 2018 album We All Heard Nothing. But the sonic layers and quick tempo of the 2018 version didn't sit right with her so she scrapped the song.

Over the years, "After Hours" blossomed into something new and the version heard on Let Me Sleep has a hazy and laid-back vibe that sets the introspective mood of the entire record: "Take a deep breath," Alyson urges. By the end of the track, she is revitalized and, ready to take on whatever comes next, declares: "Another page has been turned." Let Me Sleep marks a new beginning for the Toronto-based indie-folk musician.

Alyson has toured across Canada with JUNO Award-winning band Said The Whale accompanying on-going collaborator Dave Monks (Tokyo Police Club). She has recorded and performed with Canadian supergroup Anyway Gang and has opened for artists such as Sloan and Gregg Allman. She has accompanied and shared the stage with Canadian trail blazers Catherine Maclellan, Kaia Kater and Sarah MacDougall. Alyson has appeared on Paste Magazine NYC, BTR Live Studio and CBC First Play Live and has recorded with acclaimed producers Rob Schnapf (Elliott Smith, Beck), Gus van Go (Sam Roberts, Whitehorse) and Howard Bilerman (Arcade Fire, U.S Girls).
How to get here
We're located on Bloor Street, just one block west of Dufferin Street. Please enter through our restaurant entrance on Bloor, where you will be greeted by our host and directed to the Music Hall.
Good to know
Tickets are non-refundable
Our space does not have wheelchair accessible washrooms
Alyson McNamara with Doug Hoyer and Avalon Tassonyi