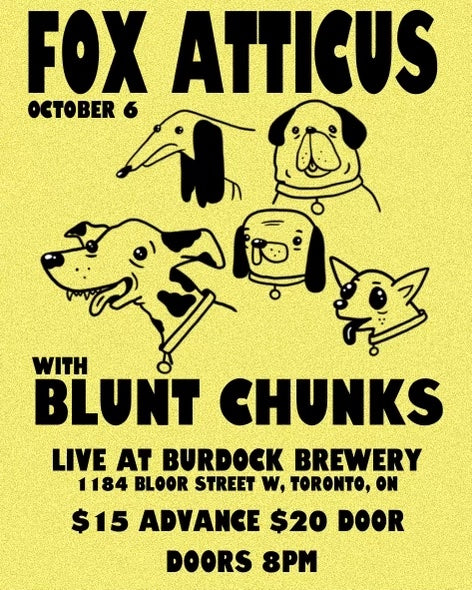 ←

Back
Fox Atticus with Blunt Chunks
Friday October 6th @ 8pm
Information
Fox Atticus of Goodbye Honolulu brings his freshly minted solo act to Burdock Music Hall for the first time. He is joined by Toronto indie artist Blunt Chunks.
About the artist
Fox Atticus is a singer/songwriter from Toronto, Canada.
Best known for his work with Goodbye Honolulu, Fox introduces a new side of himself. Dealing with topics such as heartbreak, and mental health, Fox drops the rockstar facade revealing a more raw and vulnerable side.
How to get here
We're located on Bloor Street, just one block west of Dufferin Street. Please enter through our restaurant entrance on Bloor, where you will be greeted by our host and directed to the Music Hall.
Good to know
Tickets are non-refundable
Our space does not have wheelchair accessible washrooms
Fox Atticus with Blunt Chunks