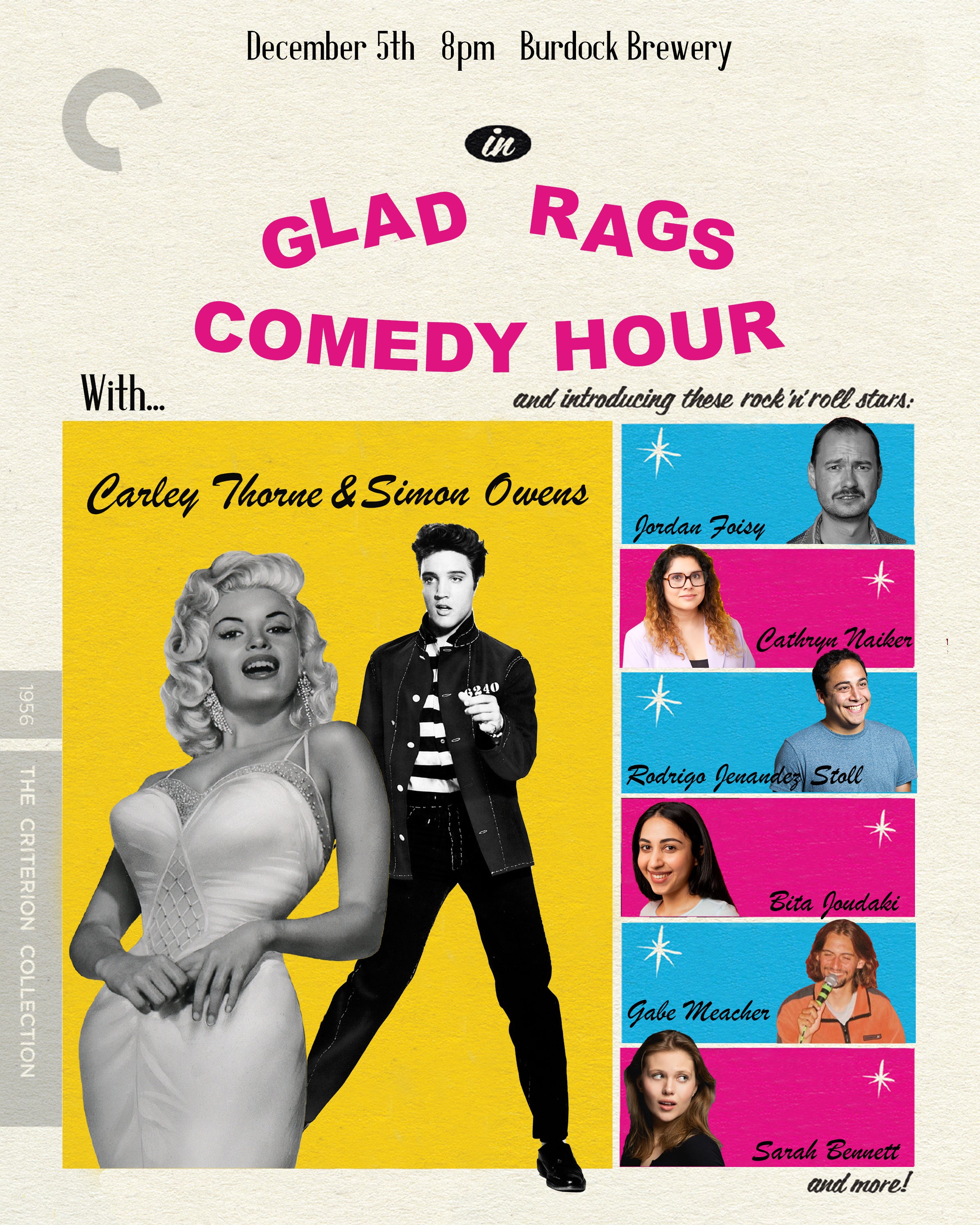 ←

Back
Glad Rags Comedy Hour
Tuesday December 5th @ 8pm
Information
Join Carley Thorne and Simon Owens as they host their Glad Rags Comedy Hour for the third time at Burdock Music Hall!
About the artists
Rodrigo Fernandez-Stoll: Rodrigo is a Toronto comedy legend! He's acted on acclaimed film and TV series such as Priscilla, Ghosts, and Blackberry. He also performs regularly with Dwayne Gretzky all over Ontario.

Bita Joudaki: Bita is a hilarious Toronto stand-up and writer who performs all over the city and has written on acclaimed televise series' like the amazing Children Ruin Everything.

Jordan Foisy: Jordan is a Canadian Comedy icon! He's written articles for Vice, The Walrus, and The Maple. Jordan is currently head writer on the CBC satirical news show, This Hour Has 22 Minutes.

Sarah Bennett: Sarah Bennett took the Toronto comedy scene by storm, she performs regularly all over the city on Toronto's top shows.

Gabe Meacher: Gabe is a writer, sketch performer and stand-up hailing from Toronto. Gabe performs all over the city and most recently had his weekly comedy show "new jokes who dis" perform at JFL 42.

Cathryn Naiker: Cathryn Naiker is a Toronto comedy staple! She's opened for legendary comedians like Dana Gould and has written for series' like This Hour Has 22 Minutes, Son of a Critch, and Run the Burbs.

How to get here
We're located on Bloor Street, just one block west of Dufferin Street. Please enter through our restaurant entrance on Bloor, where you will be greeted by our host and directed to the Music Hall.
Good to know
Tickets are non-refundable
Our space does not have wheelchair accessible washrooms