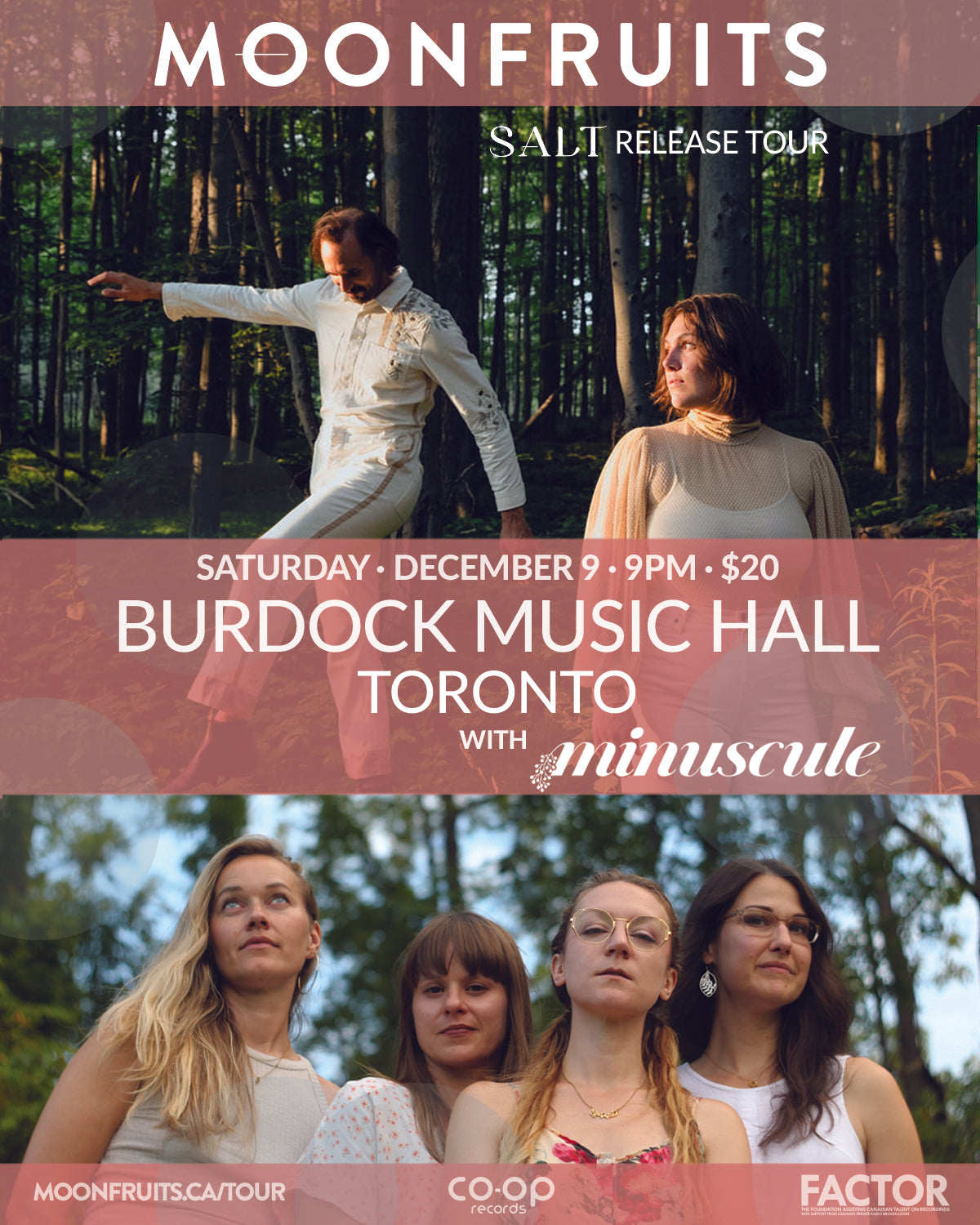 ←

Back
Moonfruits with Minuscule
Saturday December 9th @ 8pm
Information
Join folk group Moonfruits on their sophomore album "Salt" release tour, joined by Minuscule.
About the artists
Moonfruits @moonfruitsmusic craft contemporary folk that addresses our collective humanity with heart, wit, and wonder. Led by partners Alex Millaire and Kaitlin Milroy, Moonfruits pen songs in both French and English, reflecting their bilingual lived experience in their hometown of Ottawa, Canada.Theirs is the music of open-minded dreamers and diligent doers, confronting dehumanizing capitalism and environmental catastrophe with a rousing message of solidarity.

Moonfruits' lushly orchestrated sophomore album, Salt, is a 12-song suite that explores what it means to the band to live, dream, and raise a child in an era of climate change and deepening inequality. Salt is rooted and astral, tender and powerful, foreboding and hopeful, cradling all the convictions and contradictions of its songwriters.

Minuscule @minisculemusic is the brainchild of ukulelist Laurel Minnes, harnessing the power of an all-female choir and an eclectic backing band to create a powerful new form of pop music. Making their debut performance with a sold out set at In the Soil Festival, Minuscule has continually clapped, stomped and meowed their way into winning over every audience they've met. Drawing comparisons to the weaving melodies of Imogen Heap and moving experience of Choir!Choir!Choir!, Minuscule's unforgettable live performances and vocal workshops are making choral music cool again.
How to get here
We're located on Bloor Street, just one block west of Dufferin Street. Please enter through our restaurant entrance on Bloor, where you will be greeted by our host and directed to the Music Hall.
Good to know
Tickets are non-refundable
Our space does not have wheelchair accessible washrooms
Moonfruits with Minuscule